The Toyota RAV4 EV. An EV Before its Time
Since we as humans figured out that traveling by way of 4 wheels and an engine was more efficient than on horseback, we've been using internal combustion engines. These engines are tried and true, have a plentiful fuel source, and can be modified in an uncountable number of ways. But, evolution is inevitable and the automotive industry is a huge proponent of change. The 2010s brought the lithium-ion battery boom and now we have a plethora of electric vehicles being produced by the biggest names in automotive.
While Toyota is a bit slower than some other brands when it comes to EVs, our favorite automotive manufacturer already produced an EV before it was cool! The Toyota RAV4 EV was a unique vehicle that demonstrated that it was possible to produce an EV SUV crossover afterall. We at Toyota of North Charlotte are diving into the specifics of this unique vehicle so hop along for the ride!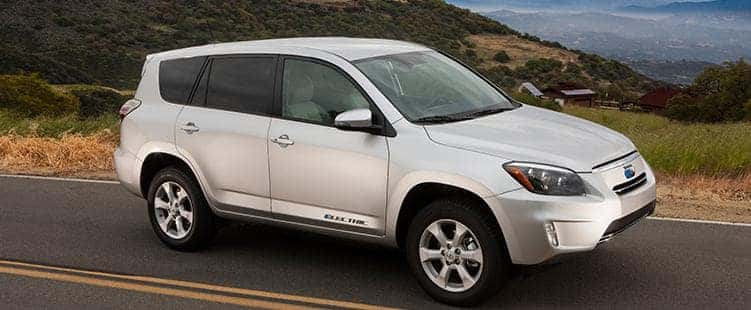 A Look Back at the Toyota RAV4 EV
This unique take on the North Charlotte Toyota RAV4 was revolutionary for its time and brought the EV SUV to the forefront of the automotive industry before it was cool. While we've come quite a long way since then, it's still interesting to dive back into this one-off vehicle. Here are a few historical sticking points:
The Toyota RAV4 EV was first made available in 1997 as a fleet, utilities, and company lease vehicle.
Battery packs were stored below the floor (a design many modern EVs use) and were nickel-hydride based.
The batteries in the EV could store 27 kilowatt-hours of power which translated to a Toyota-estimated 134 miles of driving range.
This Charlotte Toyota RAV4 sported a top speed of 78 mph and had a starting price of $42,000.
It was discontinued in 2002 but a second generation (in collaboration with Tesla) was made available in 2012 and then shelved in 2014.
For its first generation, the North Charlotte Toyota RAV4 sold 328 units and leased over 1,000 by 2002. For the second generation that number grew to 2,489 units.
All in all, the Toyota RAV4 EV was a unique vehicle. It was one of the only electrically powered crossovers on the market at the time and one of the first instances of a major automotive brand taking the electric car plunge before we had modern battery technology. By today's standards the range, charge time, and performance specs are lackluster, but that hardly seems important when you consider the impact this vehicle had.
While it's considered a bit of a rare find, there are still several North Charlotte Toyota RAV4s out there in the wild and the older models continue to enjoy the enduring durability of a 90s Toyota.
Will We Ever See Another Toyota EV?
Recently we updated our readers with the amazing news that Toyota is in fact working on a new North Charlotte EV! This model is, however, bound exclusively for the European market but could make its way to North America in the coming years if demand allows.
In the meantime, you can still shop for amazing electrified hybrid vehicles here at Toyota of North Charlotte! Shop with us at 13429 Statesville Road or shop our inventory online today.