The Best Off-Roading Toyotas
Everyone knows that driving can be a little monotonous at times. You see the same roads day in and day out and commute on the same routes to and from your regular destinations. Needless to say, your driving routine is probably lacking in adventure, but we know just the way to fix that. It's no secret that Toyota is a huge fan of off-roading. With so many amazingly capably vehicles on our favorite automotive manufacturer's lineup, getting off the pavement has never been easier.
If you're someone who's looking for a little more excitement in their drive time, Toyota of North Charlotte is here with a full list of the best off-roading Toyotas that you can drive right now through mud, sand, and more. Check it out!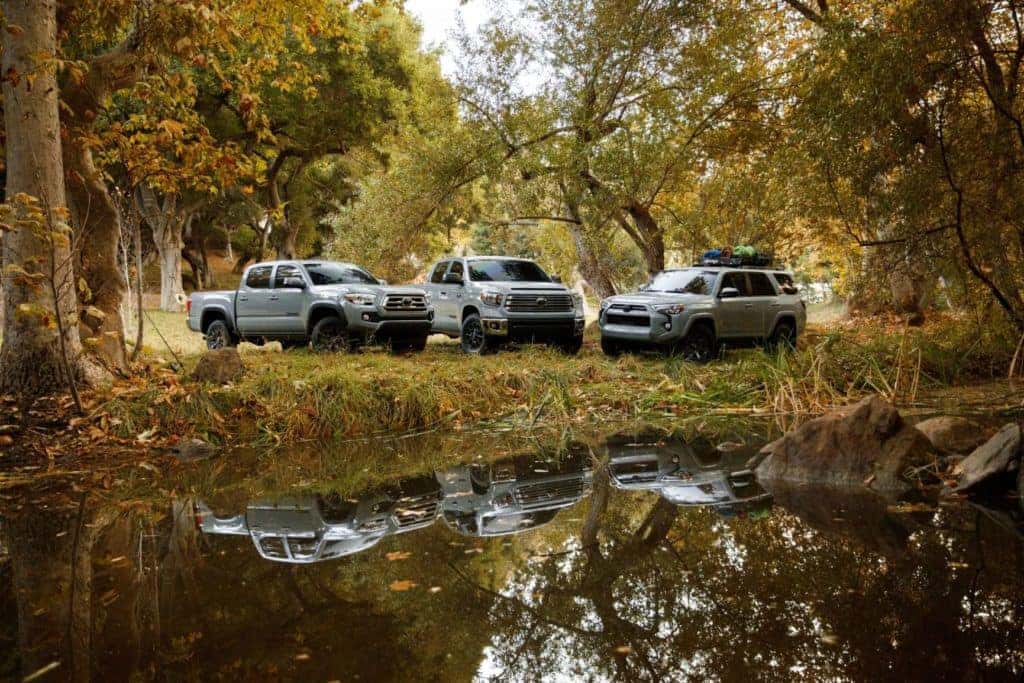 Best Off-Roading Toyotas Available Now
Toyota 4Runner
It's no secret that the body-on-frame titan of an SUV, the Charlotte Toyota 4Runner, is a beast among off-roading Toyotas. The 270-horsepower V6 engine under the hood lets drivers tackle the terrain with ease when combined with 4WD and other features like CRAWL Control and Multi-Terrain Select. The TRD Pro edition of this off-roading Toyota includes additional features like FOX Shocks, a cargo basket, exclusive Army Green paint color, and quality all-terrain tires.
Toyota Tundra
The big and bad Toyota Tundra is an excellent choice when it comes to North Charlotte off-roading Toyotas. With a 5.7-liter V8 engine, 38 gallon fuel tank, and optional 4WD you'll find yourself conquering the trails in no time. This iconic Toyota truck also has an available TRD Pro trim option that includes specialized FOX Shocks, skid plates, exclusive paint color, all-terrain tires, and more.
Toyota Tacoma
What some consider the Goldilocks N Charlotte Toyota truck, the Toyota Tacoma is arguably one of the best off-roading Toyotas out there. The aggressive design, more compact size, and optimal power lends the Tacoma to be a swift moving powerhouse on any trail. This vehicle includes a 3.5-liter V6 engine, CRAWL Control, electronically locking rear differential, Multi-Terrain Select, and Hill Start Assist to get it through any adverse trail terrain. The TRD Pro model of this excellent Toyota truck includes features like a high sitting Desert Air intake, FOX Shocks, new design front fascia, exclusive TRD Pro wheels with all-terrain tires, and more!
Toyota Land Cruiser
While you may be thinking that the North Charlotte Toyota Land Cruiser is more of a luxury vehicle than an off-roading Toyota, you couldn't be more wrong. Throughout the Land Cruiser's decades long history it's been many things, but it's always been an off-roading vehicle. That tradition carries on with the modern J200 Series. This vehicle includes off-roading friendly features like a Multi-Terrain monitor, Kinetic Dynamic Suspension System, Torsen Limited Slip differential, Multi Terrain Select, and CRAWL Control. The 5.7-liter V8 engine roars under the hood and will have any driver conquering the trails in no time. Center console mini cooler included.
The Toyota brand is no stranger to off-roading and we highly recommend checking these off-roading Toyotas out today. You can shop them all at Toyota of North Charlotte! Shop our inventory online and visit us at 13429 Statesville Road seven days a week!